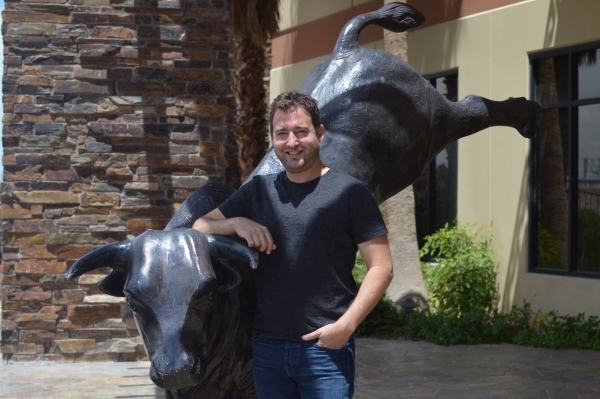 Jonathan Fine has had a busy first 15 years of the century.
He's moved from building a tech startup based on DVRs to an alarm company and into the bar and restaurant arena. Today, he's leading Fine Entertainment, which includes Sting Alarm, PBR Rockbar & Grill, Rockhouse, PKWY Tavern, Chayo Mexican Kitchen + Tequila Bar, and FINE The Agency.
The firm is based in a building on Rafael Ridge Way next to the I-15 just off Warm Springs. The structure was designed by Rafael Medina to display his talent in the construction industry.
Fine, a Las Vegas native, attended the University of Arizona, where he was able to study business abroad in Spain and he recalled "I did an internship in D.C. and fell in love with politics." Afterward, he moved to Los Angeles and worked in entertainment and sales before moving back to Las Vegas.
Fine no longer sits on the board of Big Brothers Big Sisters and said he'€™s looking for a new philanthropic board to join.
He does independent philanthropy work, donating to Keep Memory Alive, Cleveland Clinic and cancer research. He sometimes assists individuals or causes that he feels a connection to. But he makes it clear that he keeps an eye on any money he donates to be sure it is used for the intended purpose.
The entrepreneur was among this year'€™s class of Business Press "€™40 under 40″€™ honorees.
Q. What brought you back to Las Vegas?
A. I finally found a technology that I thought was going to change the world in 2000 and I moved back to Las Vegas in 2002 to start a company.
The technology was called DVR, digital video recorder, and if I had recorded TV we would probably be a billionaire but we decided to record cameras. Growing up in the casinos — one of my best friend's father'€™s ran one of the big casinos and we were in and out of the security rooms,€" I just remember rooms with thousands of VCR'€™s so I saw these DVRs and I thought I can record 16 cameras on this little computer. It's going to change the entire casino industry. So, I started a company and moved to Las Vegas and we were building DVRs for 15 years now.
Q. How did you turn DVR technology into another business?
A. Sting Alarms, that became the alarm company. We (myself and my team) adapted to the new technology and stayed ahead of the new technology. We learned the alarm business two or three years after for the recurring revenue. We've got our own alarm center downstairs. We monitor 5,000 alarms around the country. Probably 50 percent residential, 50 percent business.
Our biggest service contracts are gaming not in Las Vegas. We'€™ve got a company that we do hundreds of thousands of dollars in service out of state. We have multiple casinos that we do that for so that'€™s Sting Alarm.
Q. How did the security and restaurant industry combine for you?
A. My brother and I opened Balboa Pizza in The District 14 years ago. We had partners who eventually ended up buying us out of the deal. It taught me how to operate a bar and at the same time I was designing security systems for bars and nightclubs. We do security for all the biggest nightclubs in Las Vegas. And because I was designing that, I would hear the problems,€" my bartenders are stealing; my managers aren'€™t working; the patrons are coming in and their stealing purses from people. So we were designing systems around issues these bars were having.
Q. What drew you from security to the restaurant industry?
A. Well at the time I didn'€™t want to be an operator. I saw a friend needed money and was building a nightclub and I liked the business model and I invested. When it failed, I was forced to step in. I signed personal guarantees and I couldn't afford to pay off the personal guarantees so I had to operate the businesses. We ended up making a lot of money with the business. So, that didn't become my primary business, but it became a big focus of our time.
I stood on the street for four years handing out flyers talking to everyone that walked inside asking them what they like and don'€™t like. Every dollar I saved went into fixing this place up. If we made $2,000 that week, I'd go buy brick and I'd put brick up on one of the walls and I'd find a friend that could graffiti and he'€™d graffiti inside. We made it a really fun place. It'€™s called the Rock House, 2006.
Q. What new acquisitions have you made recently?
A. For about six months, I was in talks with the owners of Chayo (Chayo Mexican Kitchen and Tequila Bar). One of the partners was in Florida and he wasn'€™t here as much as he should have been; because he has places in Florida he needs to manage. So, the other partners came to me and asked me to take over the operations.
They worked a deal and I bought the managing partner out and became the managing partner of Chayo. We made some changes immediately and we turned the place around; it'€™s doing very well.
Q. How do you envision the future of Chayo Mexican Kitchen and Tequila Bar at The Linq?
A. The food is great. We'€™ve organized the staff; we've organized the preparation of the food. The new menu is more approachable. We're training the staff better on points of service and being more friendly.
Q. How is the Parkway Tavern different than other restaurants owned by Fine Entertainment?
A. We had to figure out a way to market to the local population. We need to make it so the club sandwich is healthy enough you can go there every day for lunch. Tailoring the menu around the athletic club across the street versus the 85,000 pedestrians a day that are going to walk by the front of the place. We created a great vibe.
Q. How are you researching for expansion efforts?
A. I'€™ve been traveling all around the country looking for locations to open this. We've been approached by Disney about possibly going into one of their future hotels. We'€™re looking at Times Square. We'€™ve signed a letter of intent in Dallas; we've signed a letter of intent in Denver. I've been to Nashville, Atlanta, all these places around the country.
Q. What are you seeing in other cities that you don't see in Vegas?
A. Every time I go into these cities, I go to all the various bars around and see what new concepts, what people are doing differently, and there was a theme in a lot of the bars that I liked. Gaming, but it'€™s not gaming that we know today in Vegas. There's shuffle board, corn-hole, beer pong, and many things going on and in any other cities. It's all young professionals. They're playing chess, or checkers, or Jenga, and we don'€™t have anything like that in Vegas.
Q. What aspect of Fine Entertainment would business owners be interested to learn?
A. The venues are all setup for local businesses; they'€™re set up for Christmas parties and holiday parties and we've got different people that are only catering to businesses.
One thing that people don'€™t know: I have two people, all they do is talk to businesses about events they're doing. Whether it'€™s anniversary party or a birthday party for someone in the company, we cater to businesses.